Event Details

>

Checkout

>

Confirmation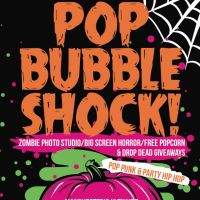 POP BUBBLE SHOCK! - Manchester's Ultimate Halloween Party! at DRY Manchester
Saturday 25th October
Venue/Location: DRY Manchester, Manchester
Doors: 22:30 till 04:00

(Last entry: 01:30)

The Famous 8th Annual Pop Bubble Shock!: Halloween Party! Pop, Punk & Hip Hop Party Anthems! Nobody does it like us! THIS WILL SELL OUT!
Who's Going to This?
Lineup and Details for POP BUBBLE SHOCK! - Manchester's Ultimate Halloween Party!
///////////////////////////////////////////////////////
The 8th Annual ☣☠☣ 'POP BUBBLE SHOCK! ☣☠☣
///////////////////////////////////////////////////////
Saturday 25th October 2014
Dry Bar Manchester
10:30pm-4am
£4adv - £7

THE BEST POP, PUNK & PARTY HIP-HOP... and scary stuff...f**k yeah!

'This is hands down one of the BIGGEST and BEST parties that we throw anywhere and this year it's going to be MAYHEM. We're turning the Dry Bar basement into...well....it's gonna be great and all you guys and ghouls are gonna love it!

NOBODY DOES IT LIKE US!'

Here's last year's video: https://vimeo.com/78480290

We got:

★ HALLOWEEN CRYPT PHOTO STUDIO

★ BIG SCREEN HORROR FILMS w/ FREE POPCORN

★ PBR! TRICK OR TREAT

★ PRIZES FOR BEST DRESSED

★ REALLY TACKY DECOR! - we're covering the place in fake spiderwebs, dodgy pumpkins, neon... lots of neon F**K YEAH!

★ GIVEAWAYS - from Vans, GoPro, Drop Dead & Afflecks

THE LAST 2 EVENTS HAVE SOLD OUT BY MIDNIGHT!

This is one you're gonna want a ticket for!

THIS WILL SELL OUT! - Stay Tuned 4 Tickets!

It's POP BUBBLE ROCK! It's simple...

SINGING. DANCING. DRINKING. HIGH FIVES.

░░░░░░░░░░░░░░░░░░░░░░░░░░░░░░░░░░░░░░░░░░░░░░░

POP/PUNK/ROCK/PARTY....and the Ghostbusters theme:

Blink 182 ► Will Smith ► Fall Out Boy ► Saves The Day ► New Found Glory ► Iggy Azalea ► Destinys Child ► State Champs ► The Wonder Years ► The Menzingers ► A Day To Remember ► Whitney Houston ► You Me At Six ► Dr Dre ► Less Than Jake ► The Gaslight Anthem ► Stevie Wonder ► Tribe Called Quest ► Set Your Goals ► Jimmy Eat World ►Jay Z ► Nofx ► Foster The People ► Prince ► Foo Fighters ► Sum 41 ► Disclosure ► Alexisonfire ► Phil Collins ► Cancer Bats ► Millencolin ► Kids In Glass Houses ► Blondie ► Nas ► The Ataris ► Brand New ► Twin Atlantic ► Outkast ► Michael Jackson ► Ludacris ► Motion City Soundtrack ► Against Me ► Taking Back Sunday ► Madness ► Refused ► Tom Jones ► The Naked & Famous ► The Get Up Kids ► Le Tigre ► Modern Baseball ► Say Anything ► Notorious B.I.G ► Every Time I Die ► Limp Bizkit ► Yellowcard ► Alkaline Trio ► No Doubt ► Black Flag ► McFly ► The Bouncing Souls ► Descendents ► Mos Def ► The Story So Far ► Weezer ► Wu Tang Clan ► Alphabeat ► & loads more
░░░░░░░░░░░░░░░░░░░░░░░░░░░░░░░░░░░░░░░░░░░░░░░

★ Awesome Drinks Deals:

£1.50 SAMBUCA & TEQUILA
£2.50 BIG BEERS
£3 DBL VOD/RUM + MIX


www.facebook.com/pbrmanchester
Venue Information
DRY Manchester
28-30 Oldham Street
Manchester
M1 1JN

Phone: 016123849840
Music Genres
Cheesy Dance, Hip Hop, Pop/Commercial, Punk, Rock
The event information, content and images shown have been provided by the event promoter. If you wish to report an issue with this event please click here: Report issue with event
View POP BUBBLE SHOCK! - Manchester's Ultimate Halloween Party! on Skiddle.com